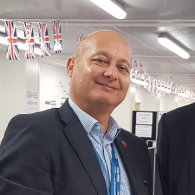 Independent Member since 1 January 2018 to 31 December 2026.
James is an Audit Manager working for Balfour Beatty on the HS2 in Birmingham.
James had links to the College in the past through Heathrow Airport Limited (HAL) and Heathrow Academy.
James is passionate about science and mathematics and wanting to give his experience back to others. Also working on HS2 in construction is a great opportunity to share and involve West Thames College.
His interests include: chess, calligraphy, reading and fishing.