Westminster Abbey was the setting for the launch event of "Voice and Vote", a book which accompanies a major exhibition in Westminster Hall to mark the 2018 suffrage and parliamentary equalities anniversaries
It tells the story of women's involvement in politics, Parliament and of their struggle for equal representation.
The event, held on Wednesday 27 June was attended by college Principal Tracy Aust and Director of the Skills and Logistics Centre, Bev McGuire. Written by academics and experts and featuring a fascinating selection of archival images, including a contribution from West Thames College entitled "Inclusive Education", the book tells of the struggle for women to get the vote, as well as detailing how the vote was won and how the fight for equality continues today.
"Voice and Vote" is also part of the wider "Vote 100" campaign, which celebrates this important milestone in our country's democratic history.
The exhibition can be seen at Westminster Hall from 27 June to 06 October 2018 and a copy of the book is available from the Marketing Department.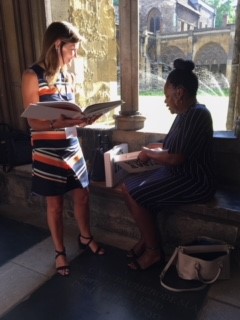 Tracy Aust and Bev McGuire at Westminster Abbey (Photo: Barbara Luckhurst)