West Thames College receives visitors from industry on a regular basis but few have royal credentials. On Friday 25 November the college welcomed members of the Royal Household staff, Miss Olivia Smith, senior footman, and Mr Phillip Pagels, junior sous-chef.
The pair were joined by Maria Pedro, Deputy Lieutenant, who had worked with the college careers and employability team to arrange the session, and leader of Hounslow Council, Steve Curran.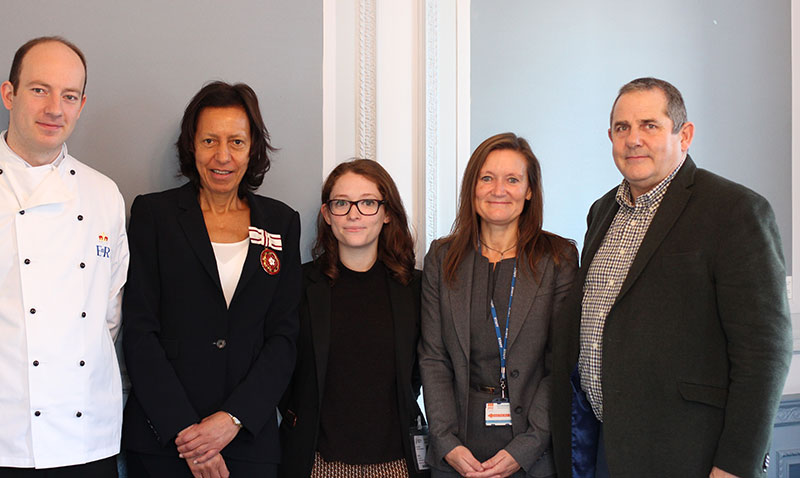 Phillip Pagels Junior Sous-Chef, Maria Pedro Deputy Lieutenant, Olivia Smith Senior Footman, Tracy Aust West Thames College Principal, Steve Curran Leader of Hounslow Council.
Olivia and Phillip dispensed quickly with the formalities to deliver an informative employer insight session to a group of catering and business students. As senior footman Olivia is responsible for taking care of the 'front of house' for the Queen. Duties include serving at banquets and receptions and often involve travelling with the Royal Family. Whilst tending to the needs of Royalty and foreign dignitaries might appear challenging, the visitors were keen to dispel some of the misconceptions about working at the Palace. It came as a surprise to many that the Royal Household has a very diverse workforce, comprised of people from all over the world. The team is united not by having the best qualifications but by having the right attitude to deliver an exceptionally high standard of service.
For example Phillip joined the team from South Africa with no experience of working in a kitchen. However he did possess a willingness to learn and with the help of an apprenticeship with the University of West London, he has progressed through the ranks to a senior position.
Council leader, Steve Curran, re-emphasized this message, using his own work history to highlight the importance of interpersonal skills. In the question and answer session students reflected on the need to put both interpersonal and employability skills into practice when they enter the workforce.
The session was warm, engaging and packed with useful information. Reece, a year 2 Business student summed up the feeling of many when he commented that, 'I thought they (Olivia and Phillip) would be strict, like the military, but they were relaxed, friendly and funny'. Steve Curran closed the session with the statement, 'Our students can get any job, if they show the right attitude.'