Since September 2015 in recognition of the outstanding courses we currently deliver for school pupils, West Thames College has opened the door to deliver full time courses for students aged 14 to 16. This programme gives students the option of studying core GCSE subjects whilst gaining a high quality vocational qualification at college.
Yusef Bin-Umar joined the Direct Entry programme in 2015. Yusef had been home-schooled for three years but his parents feared he was falling behind and wanted him to enjoy the social aspect of school.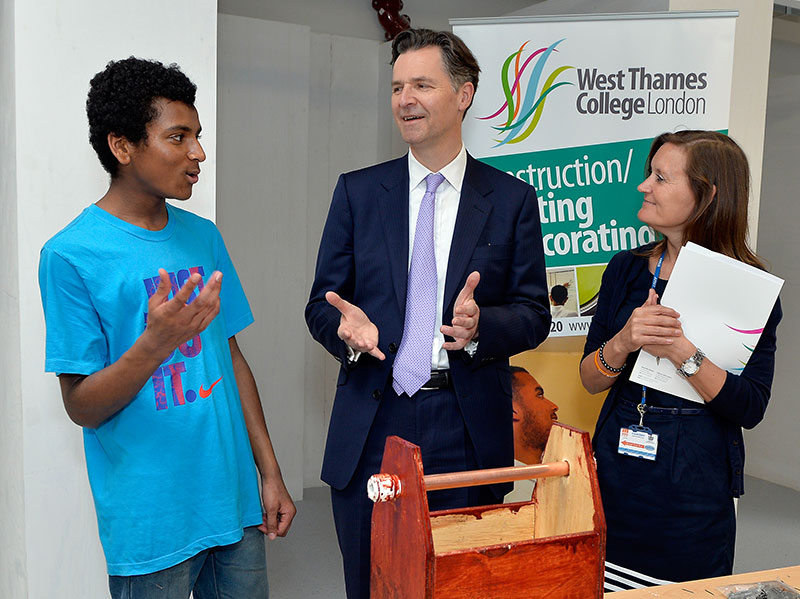 Left to Right: Yusef with John Holland-Kaye, CEO of Heathrow Airport and West Thames College Principal Tracy Aust at the 2016 Aspire Skills Show.
"On my first day I felt very shy and anxious, but the teachers put me at ease. It's different to what I remember of school, the expectations are higher but the teachers do all they can to help us succeed," he told us.
Yusef has made great progress on the programme, he is working very hard on his GCSEs and has made lots of new friends. "One of my favourite things to do is conduct experiments in the science labs. The equipment and facilities are great."
If your son or daughter is in year 9 and would benefit from an alternative learning environment to school, please contact the Information Centre on 020 8326 2020 or register online to attend our open day on Thursday 6th October 4-6pm to find out more about the college courses for 14-16 year olds at west-thames.ac.uk.