Many of our alumni go on to achieve great things after graduating and we love to celebrate their accomplishments.
It has been over 10 years since two energetic, larger than life characters graced the halls of West Thames College. Hugo Chegwin studied Performing Arts and Music Technology while Asim Chaudry studied Media.
"I'll be straight up, they weren't role models in terms of attendance," admits Alex Searle, Director of Visual & Performing Arts and Media. "However they have both gone on to be absolute successes."
Hugo and Asim co-created and star in spoof documentary, People Just Do Nothing. Now in its fourth series, the programme started as an online series for BBC3 but has gone on to earn cult status and a spot on BBC2 and could soon be turned into a film. The programme has received critical acclaim and multiple prestigious nominations and awards, including the 2017 Royal Television Society Award for Best Scripted Comedy and nominations for BAFTA for Best Scripted Comedy in 2016 and 2017.
Hugo has written songs for British superstars including Sam Smith and Emeli Sande, while Asim has played alongside Benedict Cumberbatch on the BBC series Sherlock.
The new series of People Just Do Nothing will air on BBC2 later this year.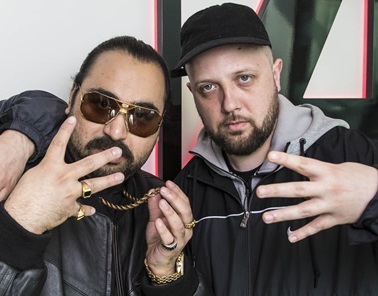 Asim Chaudry and Hugo Chegwin
If you want to take your first step towards a successful career in media, music or performing arts, search our course explorer now.