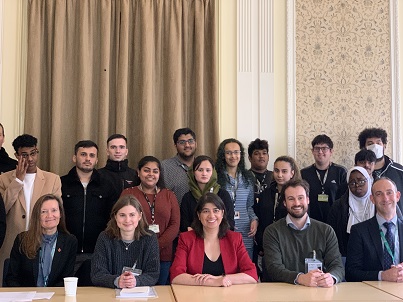 On Friday 5th November 2021, local MP for Hounslow, Seema Malhotra, came in especially to talk to our students about Connected Futures – a new mentoring programme which will connect 150 young people aged 18 – 24 in Hounslow seeking work with their very own industry specialist Mentor.
Connected Futures has been set up by charity Hounslow's Promise and aims to help young people develop their employability and leadership skills. It's a two-way process as it also gives Mentors a chance to give back to the local community and helps to develop their own mentoring and community leadership skills.
Students were really excited to be offered an opportunity to get involved and asked Seema lots of interesting questions before signing up. Students learnt that by taking part in Connected Futures they would get support in finding a job/ work experience, help with writing a CV and with interview skills, and would also have access to Sports, Mental Health Wellbeing and Building Resilience workshops! There would also be a graduation ceremony at the end of the 9-month programme, which is due to start this December.
Our students made such an impression on Seema, that she even tweeted about them after the event; 'they were so inspiring and such a lot of talent in the room!'.