We began with our Higher Education Graduation Ceremony on Wednesday 22 June to honour the successes of our students completing their HNC or HND courses.
This year 110 students graduated from West Thames College. Dressed in their caps and gowns they were applauded by families, friends, lecturers and special guests as they collected their scrolls.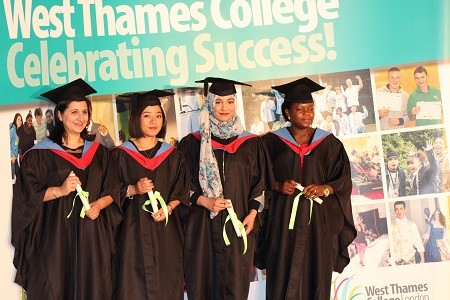 The ceremony was led by MC Ann Hoggan, Marketing Officer and included a key note speech from Katrin Lehmann, Director of Higher Education.
We were delighted to welcome motivational speaker David McQueen, who gave an inspirational speech about the importance of taking the successes you have had and using them in your future learning and the world of work.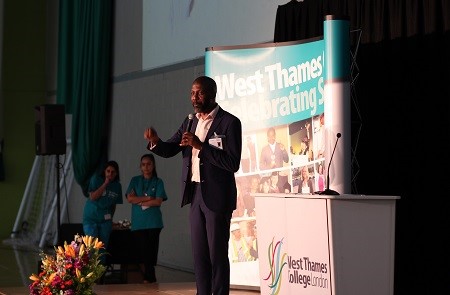 The ceremony was brought to a close with a reading of the Dr Seuss' poem 'Oh, the Places You'll Go' to wish our graduates the best of luck in their future studies or work.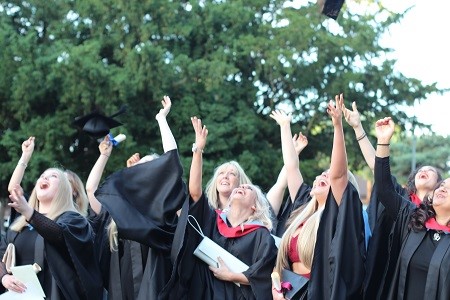 After the award ceremony, graduates and guests were treated to refreshments in the atrium, where after several years of hard work and dedication, they could finally let their hair down and relax.
On Thursday 23 June we help our Student Award Ceremony. This truly uplifting and memorable evening celebrated the amazing achievements of some of our students. These students may have gone that extra mile to achieve success, may have overcome difficulties and challenges, may have gone out of their way to help others but all of them stand out from the crowd and deserve recognition for their hard work and for making West Thames College such a vibrant and successful college.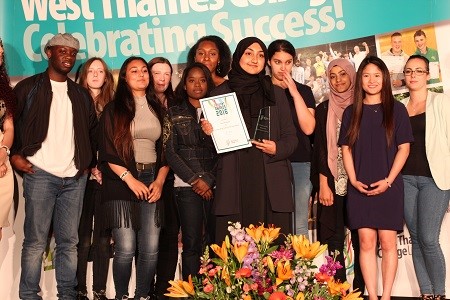 Many thanks to Sheera Al Hassani and Saadiq Cornelius for their inspirational speeches and for helping to present our awards.
Thanks also to the Mayor of Hounslow, Councillor Ajmer Grewel and her consort, Councillor Pritam Grewal who attended our Awards ceremony and assisted by presenting the trophies to our three overall student winners. Applied Biology student Navjit Kaur was awarded the Contribution to the College Award, Lauren Clarke, Level 1 Diploma in Service and Maintenance Engineering student won the Academic Achievement and the Determination award went to Level 3 Childcare student Ramneek Keila.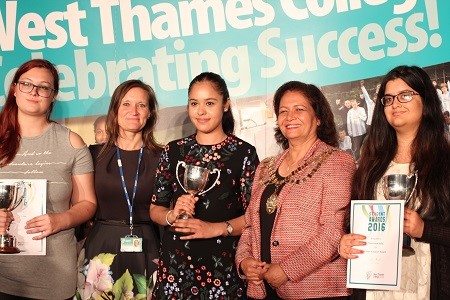 (Left to right) Lauren Clarke, West Thames College Principal Tracy Aust, Navjit Kaur, Mayor of Hounslow, Councillor Ajmer Grewel and Ramneek Kelia.
Finally a huge thank you to our sponsors for supporting our 2016 Award Ceremony.